First of all, I would like to say sorry to you guys because I didn't wrote about 'Hikayat Merong Mahawangsa'. To be honest, I haven't watched the movie yet. But, I wrote a review about a movie named 'American History X'. I'm sure some of us had watched this movie. It was so popular in the year of 1998. It is an American drama film directed by Tony Kaye and starring Edward Norton, Edward Furlong, Beverly D'Angelo and Avery Brooks.
The film was released in the United States on October 30, 1998 and went on to gross over $23 million at the international box office. Critics mostly praised the film and Edward Norton was given an Academy Award nomination for Best Actor. It was also named by Empire magazine in September 2008 as the 311th Greatest Movie of All Time.
The film tells the story of two brothers, Derek Vinyard (Edward Norton) and Daniel "Danny" Vinyard (Edward Furlong) of Venice Beach in Los Angeles, California. Both are intelligent and charismatic students. Their father, a firefighter, is murdered by a black drug dealer while trying to extinguish a fire in a South Central neighborhood of Los Angeles, and Derek is drawn into the neo-Nazi movement. Derek brutally kills two black gang members whom he catches in the act of breaking into the truck left to him by his father, and is sentenced to three years in prison for voluntary manslaughter. The story shows how Danny is influenced by his older brother's actions and ideology and how Derek, now radically changed by his experience in incarceration, tries to prevent his brother from going down the same path as he did.
At the end of the story, Danny was shot to death by a young black student. When Derek arrives, he cradles his dead brother in his arms. The film ends with Danny narrating part of his paper, in which he quotes the conclusion of Abraham Lincoln's first inaugural address: "We are not enemies, but friends. We must not be enemies. Though passion may have strained it must not break our bonds of affection. The mystic chords of memory will swell when again touched, as surely they will be, by the better angels of our nature."
(source: wikipedia.org)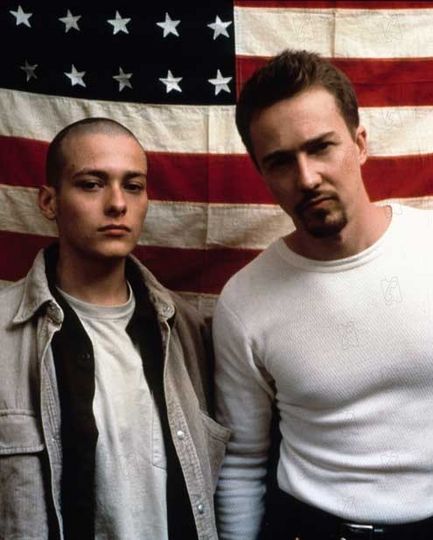 Danny (left) and Derek (right)
Before i watched this movie, I thought this movie is all about fighting, gangsterism, and racism. At the end of the story, I found out that this this movie brings so much moral values, despite of the violence. This story tells us that there is no point to be racist. And we should love and take care of our family no matter what happens. It's a great movie to watch...